Virtual Sixth Form Open Evening
A Truly Warm Welcome to The Bulmershe School. Thank you for your interest in The Bulmershe School Sixth Form. We are delighted you are considering a place with us.
Normally, nothing delights me more than welcoming families to visit The Bulmershe School; however, the current situation precludes us from doing so. Although a Virtual Visit cannot replace the experience of visiting us in person, we hope it will give you a sense of the values-driven education that our students experience alongside an insight into the ethos of The Bulmershe School and what makes us unique.
The resources below will enable you to gain an insight into the inspiring education The Bulmershe School offers where we are proud to be ranked amongst the top 10% schools nationally (with similar learners).
Virtual Sixth Form Open Evening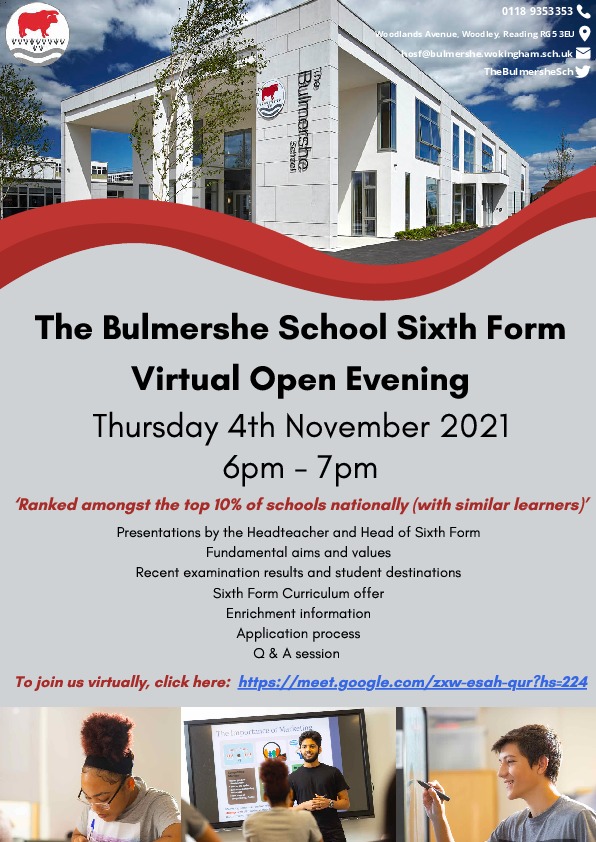 Sixth Form Virtual Open Evening Recording Request
To find out more about life at The Bulmershe School and to hear from Mrs Woodin, Headteacher; Mrs Sharp, Assistant Headteacher; and Miss Moran, Oxbridge Co-ordinator, please watch our welcome video.
Head Students' Testimonial
Watch some of our Head Students speak with passion and enthusiasm about their experiences and opportunities.