Library and Media Resource Centre
Welcome to the Bulmershe School Library and Media Resource Centre!
Lirbary Opening Times
Library Opening Times
Monday to Thursday 07:30 - 16:30
Friday 07:30 - 16:00
Also open during Break Time and Lunch Time
Please click the link below to view the Library Catalogue
https://bulmershe.oliverasp.co.uk/library Login with your school username and password to browse, reserve titles and interact with the News page.
E-books and Audio Books
The school Library has added over 1,000 audiobooks and eBooks to the Library Catalogue for students to enjoy reading and listening to from home. To start browsing and borrowing, follow this link:
https://thebulmersheschool.eplatform.co
Y8 - 13 Students can login to their accounts using their school email address as their username (e.g. tpatel20@bulmershe.wokingham.sch.uk) and the password for everyone is library1. To use the phone app, download the ePlatform app from your app provider, find the Bulmershe library and login with the same details above.
Year 7 students usernames are their school email address e.g. EExample23@bulmershe.wokingham.sch.uk (note the capitals for their first initial and the first letter of their surname) and the temporary password for all year 7s is Library1 (note the capital L). If you cannot log in, please email Mrs Ku. kku@bulmershe.wokingham.sch.uk
The Media Resource Centre
Media Resource Centre Opening Times
Monday to Thursday 07:30 - 08:30 and 15:00 - 16:30
Friday 07:30 - 08:30 and 15:00 - 16:00
Closed during Break Time and Lunch Time
The Media Resource Centre offers a modern teaching and learning suite with over 70 computers. Catch up with your homework, print documents ready for lessons or extend your learning beyond the classroom with the best recommended digital resources.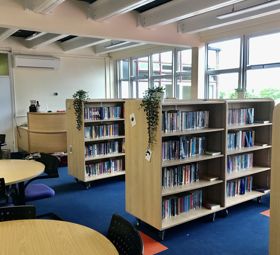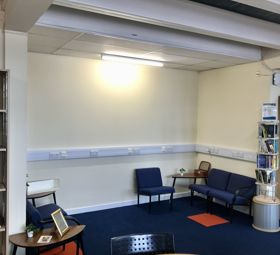 The Library
The Library offers a calm and focused space for students to read, study and enjoy browsing the resources. All students are automatically made a member of the Library when they join the school and can borrow up to 6 resources at a time for two weeks at a time. Students are welcome to visit the Library before school, during breaks and lunch times, or after school.
Why visit the Library?
Read and borrow the latest exciting fiction titles from popular children's and young adult authors.
Browse and learn from the collection of non-fiction books on a variety of interesting topics.
Enjoy playing a quiet board game such as chess or monopoly with your friends during break time.
Find out about the latest recommended resources from your subject teachers.
Relax in the reading nook with comfy seating and interact with the latest awareness day book displays.
Wellbeing Wednesdays – students can join our chilled-out library sessions at break and lunch on Wednesdays with soothing music comfy reading nooks.
(Sixth Form Only) FREE access to The London Library including its academic journal articles and research papers – check out the incredible resources on their website!
Reading for pleasure at The Bulmershe School
Reading for pleasure is encouraged and celebrated at the Bulmershe School and our aim is to create a reading culture that helps to enrich pupils' academic and personal growth. The benefits of reading are boundless: it develops pupils' vocabulary and comprehension skills, has a positive impact on their ability to retain and recall information and enables them to access and understand the school curriculum. Importantly, it can also reduce stress, help pupils to foster positive relationships and improve their mental well-being.
We strive to provide every student with access to entertaining and culturally diverse fiction to help them make reading for pleasure a habit for life. The Library provides a welcoming and comfortable space for them to explore genres, titles and variety of topics. If you would like more information about reading for pleasure, follow the links below or get in touch.
Benefits of Reading for Pleasure – BookTrust
'Libraries Change Lives' - Cressida Cowell's Open Letter to the PM
Not sure where to start on your reading journey? Here are some recommended reading lists.
Books to read before you join The Bulmershe School
Books for fans of Religious Studies
Extra-Curricular After School Clubs at the Library:
Students are welcome to join these clubs any time. Just pop along after school!
Monday LEGO club or Artemis club
Tuesday - Jewellery Club or Dungeons & Dragons Beginners club
Wednesday - Book club
Thursday – Dungeons and Dragons club
Friday - Christian Union
Contact
If you would like to ask a Library or Media Resources question, please email:
Mrs K. Ku - Library and Media Resource Manager: kku@bulmershe.wokingham.sch.uk
Follow the Library and Media Resources Centre on Social Media for the latest resources, news and important awareness days such as World Book Day, Mental health Awareness Week and Libraries Week.