Admissions
We are delighted that you and your family are considering choosing The Bulmershe School.
For admissions to Years 7 to 11, parents residing in Wokingham Borough should apply to Wokingham Borough Council. Parents residing in any other local authority should apply through their home local authority who will forward the application to Wokingham.
Dates for September 2024 Admissions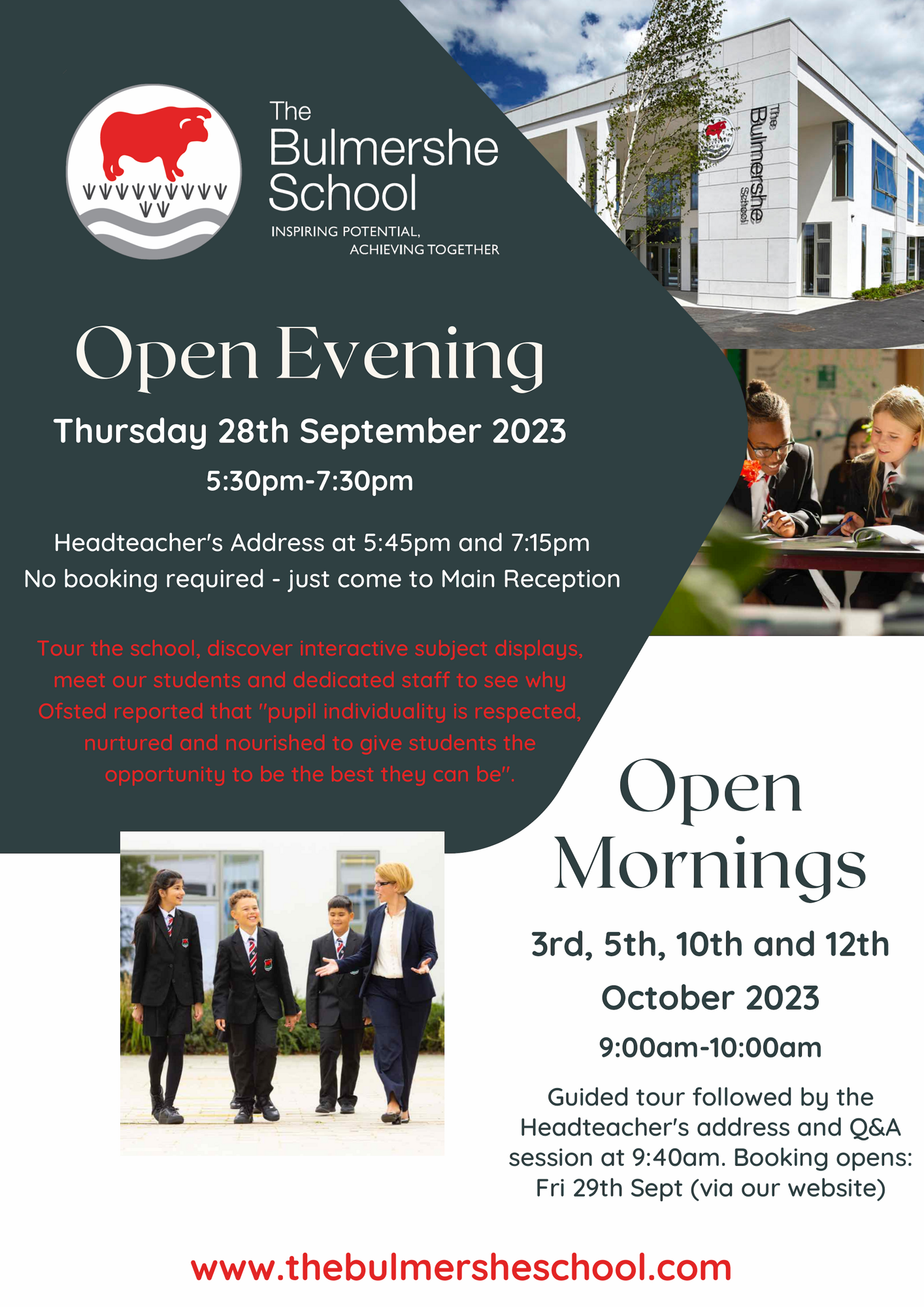 Bulmershe Open Evening:
Thursday 28th September from 5:30pm - 7:30pm
Open Mornings:
A tour of the school with an address from the headteacher at 9:40am, followed by a Q&A session
Tues 3rd October: 9am - 10am
Thurs 5th October: 9am-10am
Tues 10th October: 9am-10am
Thurs 12th October: 9am-10am
(Bookings for the Open Mornings will go live on Friday 29th September)
Application deadline: 31st October 2023
National offer day: 1st March 2024
Further details relating to school admissions can be found on the Wokingham and Reading Borough Council websites.
For more information about Wokingham admissions 'Starting and Applying for a Secondary School please visit:
Wokingham - Applying for Secondary School 2024
For more information about admissions from Reading Borough:
Visit Reading Borough Council's Secondary School Admissions Page
In Year Admissions
For in year admissions please refer to Wokingham admissions 'Moving to a different School'
Sixth Form Admissions
For applications to the Sixth Form you should contact the school direct.
Please do not hesitate to contact the Office at the school if you have any queries regarding admissions.
office@bulmershe.wokingham.sch.uk
Contact details for Wokingham Borough Council
School Admissions Team
Children's Services
Wokingham Borough Council
PO Box 156
Shute End
Wokingham
RG40 1WN
Fax: 0118 974 6135
schooladmissions@wokingham.gov.uk
Frequently Asked Questions regarding Admissions
How will Bulmershe consider applications and selections for each age group?
This is something that is overseen by your local authority. Please see the Wokingham and Reading Admissions Parents' guides:
Wokingham Borough Council Parents' Guide
Reading Borough Council Parents' Guide
How will The Bulmershe offer places if there are more applicants than places available?
The schools Admissions Arrangements and Oversubscription Criteria are set by Wokingham Borough Council. The Local Authority is responsible for deciding on admissions to the school. You can read more about over-subscription criteria in their Admissions Policy.