Pastoral Overview
To find your child's form tutor or Head of Year's contact details, please click on their year group
At The Bulmershe School, we pride ourselves in our pastoral support team whose sole purpose is to ensure that students feel safe and supported, and are therefore able to do their very best. Each year group has a Head of Year, an Engagement Manager and a member of the leadership team that works with a specific year group in order to support and intervene as needed. Students also have access to the SIGNAL Centre, where our Lead Mentors and Mental Health Co-ordinator work, to offer support when needed. This, along with their form tutor, ensures that every student has access to bespoke support each and every day, to ensure they can be the very best they can be and overcome any barriers.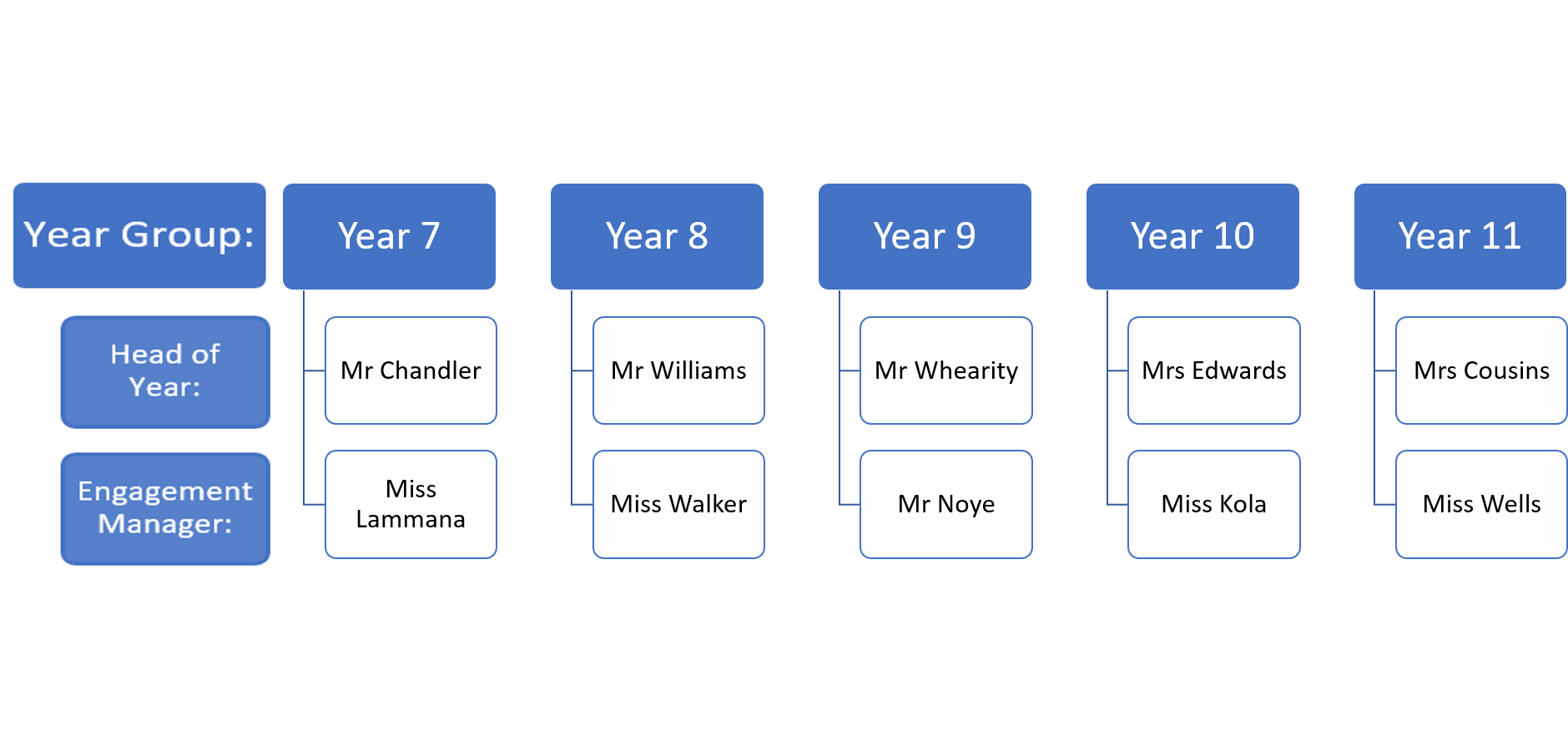 (For contact email address for Heads of Year or Engagement Managers, please refer to your year group homepage)
A Head of Year is responsible for the pastoral care of the students in the year group. The Head of Year will be present throughout the school day, will lead on weekly assemblies, celebrate student success, work regularly with parents and many more elements, in order to ensure all students are supported and cared for consistently, throughout their time at Bulmershe. Heads of Year at Bulmershe are passionate about the ethos and culture that is created within their year groups and this will be seen throughout the school every day.
Each year's Engagement Manager is in school specifically to support Bulmershe students in overcoming any difficulties, challenges or barriers they have in order to allow themto fully focus and engage in their learning and reach their potential. The Engagement Managers are available before, during and after school for students, but also to have discussions with parents in order to offer the right and specific support for each individual child as and when needed.
Every child deserves one member of staff who knows them very well, challenges them to be the best they can be, holds them to account when they get it wrong and celebrates their successes. A tutor understands the whole picture of a child's education from their home life to how they are achieving across the curriculum. We pride ourselves on having a strong pastoral system which cares about all students and the form tutor role is integral to this.