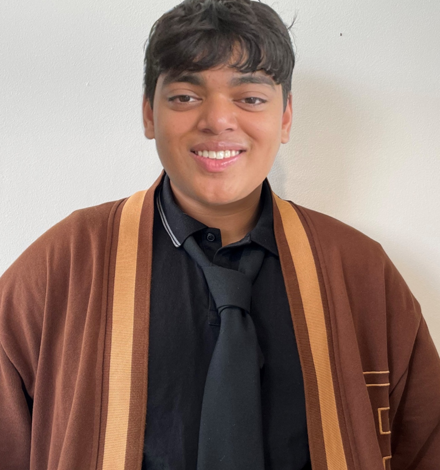 "There is no pressure to figure out what you want to do immediately, these years are here for you to find what you are truly interested in."
Head Student
Why did you choose to come to the Bulmershe School?
Bulmershe was a huge upgrade from my previous school. I joined Bulmershe in Year 12 and the facilities were amazing. I loved the large auditorium and brilliant Media Resource Centre - which I have probably spent most of my sixth-form life in. The school also offers extra curricular activities and clubs such as Duke of Edinburgh, Bushcraft and a debate club to name a few.
How has The Bulmershe School inspired you to strive for your aspirations and dreams?
If I'm being completely honest, I didn't have any aspirations or idea of what I would do post A-levels. I had a few choices but I couldn't fully commit to anything until I spoke to the careers councillor who really helped me find my true passion of pursuing law. My Heads of Year have given us opportunities to find work experience and I applied to many law firms. They also provided me with a chance to study at Eton College toward the end of the school year which not only helped me strive for my aspirations but also learn more about the process on how to achieve my goals.
How do you feel the co-curricular (extra-curricular clubs, trips, opportunities) experience at The Bulmershe School has benefited you?
Through the many schools I have visited and studied at, I have found Bulmershe to be the best school when it comes to giving their students opportunities. I have already mentioned the many extra and super- curricular activities this school has to offer but there are a lot more. Including: Extended Project Qualification (EPQ) which counts towards your UCAS points, No Labels club, D&D club and the Production the drama department puts out every year. My personal favourite has to be debate club which is currently sparking my undying interest for law and politics.
What would you say is your favourite moment so far in your time at The Bulmershe School?
Whilst it was immensely difficult, participating and completing my Silver Duke of Edinburgh award alongside my friends was my favourite moment at Bulmershe. The staff took time out of their busy schedules to train us for the expedition as well as supervise and assess us. I learned so much from this experience and it was even more special to me as I got to do it with my closest friends.
What is your favourite subject and why?
Writing this I imagine my English and History teachers are shaking their fists right now, but I have to choose Media Studies. This subject is a mix of knowledge and practical work with us learning many different theories about audiences and how their brain works towards seeing certain colours and images, as well as putting our talents to use through directing music videos and producing podcasts for our coursework. Mr Mooney and Miss Payne are phenomenal at how they teach this subject, with their classes fully engaged and passionate about the subject. Studying Media A level gives students a variety of future career directions and transferable skills for their next steps. Critical thinking, along with analytical and practical skills, is highly regarded and beneficial in many different professional and higher education contexts. I also won the Media Studies award at the end of the school year (#HumbleBrag)
What advice would you give to a student about to join The Bulmershe School?
Just relax. Whether you're joining Year 7 or 12, there's no other method or strategy that will help you more than to not overwhelm yourself. This period of your life will be chaotic and it will be challenging but you have to stay calm and take it one step at a time. Just don't relax too much, as much as it is easy to do the work later, trust me when I say piling up work will cause havoc on your mental health.
Finally, there is no pressure in figuring out what you want to do immediately, these years are here for you to find what you are truly interested in.