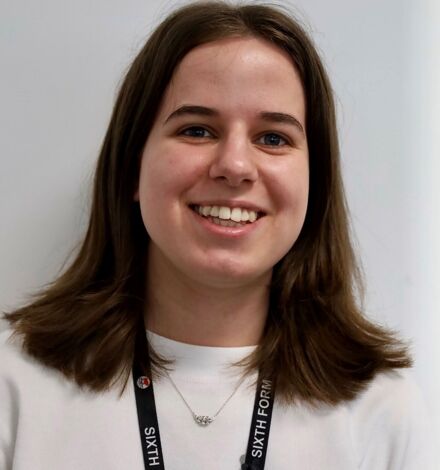 "Since joining Bulmershe I have been given so many opportunities that have helped me to grow as a person and develop an understanding of what I'm passionate about."
Head Student
Why did you choose to come to the Bulmershe School?
I have been at Bulmershe since year 7 and what really stood out to me from the start was the way that every student is given so many opportunities to excel and be the best version of themselves, with teachers positively encouraging them along the journey.
How has The Bulmershe School inspired you to strive for your aspirations and dreams?
I came to Bulmershe with a fixed idea of what I wanted to do in the future. However, even in my early years at Bulmershe, I saw these dreams and aspirations change as I was given the opportunity to explore subjects in a way that I hadn't been able to do previously. These have then changed again since taking my A levels and I'm so grateful that they have! With the opportunity to take a new subject I have discovered where my interests really lie and I don't think this ever would have been possible without the amazing support of the teachers at Bulmershe.
How do you feel the co-curricular (extra-curricular clubs, trips, opportunities) experience at The Bulmershe School has benefited you?
There are so many co-curricular opportunities at Bulmershe and what I've really noticed about them is the friendly atmosphere of each one, with students all equally passionate about what they are doing and wanting to further their knowledge and understanding in a certain area. I have also had the opportunity to go on loads of school trips which has enabled me to develop my personal knowledge of different subjects in fun and practical ways.
What would you say is your favourite moment so far in your time at The Bulmershe School?
I have so many favourite moments, but I've particularly enjoyed being a part of the school shows for the last few years. I feel that these have really helped to develop my confidence as a person whilst giving me the experience of performing in front of an audience which is fundamental to my A level drama. I particularly enjoyed performing the song 'Cortina' in last year's show, Made In Dagenham, as it allowed me to show my enthusiasm for singing and drama, with it being my first solo part in one of the school shows.
What is your favourite subject and why?
I love both drama and psychology, and feel that both of these subjects are valuable in teaching me more about myself. Whilst drama has encouraged me to be creative and more confident, psychology has taught me to think from different angles and perspectives, all of which I believe are necessary skills to have.
What advice would you give to a student about to join The Bulmershe School?
Get involved in the Bulmershe community as much as possible, whether through extra-curricular activities and clubs or the school trips offered. Not only will these expand your knowledge of different areas and subjects, but they will give you the opportunity to meet new people and make friends with people who have similar interests to you, as well as helping you to realise what you're passionate about.