Engagement and Intervention
We know that children succeed when they are supported well at school, treated as individuals and, if they are worried in any way, have someone to talk to. That is why we have our inclusion centre, Martin House. This centre houses our Oasis and Ivory teams. These teams consist of learning support assistants, the SENCO, English as an additional language teachers, our counsellors and our inclusion team. Dedicated staff to ensure all students are supported both academically but also pastorally during their time with us.
Ofsted recognised The Bulmershe School "offers an aspirational yet caring community, where pupils are kept safe and their welfare matters greatly."
Inclusion
As a school we have prioritised the removing of barriers to learning faced by disadvantaged pupils and have extension provision for pupils who have special education needs and or disabilities. We ensure everyone is supported in order to make accelerated progress across the curriculum.
Our Oasis Centre offers a calm environment where students work in small groups on literacy, numeracy and social communication. We do speech and language work and also help with additional study support. Every morning, we are available for students to ensure a good start to the day.
During break and lunchtimes we run a club where students can relax, chat, read or play games. After school we offer support with homework.
Our staff enable young people to access learning both in and out of lessons. We work with students throughout the school supporting learning, mentoring and ensuring inclusive access to education.
For more information please contact our SENCO: fchilds@bulmershe.wokingham.sch.uk
Discover more about our provision for SEND students.
Intervention
It does not matter where you are from, what your level is, what your needs are or any barriers you might face - The Bulmershe School and our Intervention Team are here to support you and give you the resources you need to succeed.
The Bulmershe Inclusion Team are based within the Inclusion Centre. Our aim is to offer support and advice to our students during times of stress or worry. The Inclusion Team offer both 1-2-1 mentoring, which uses evidenced-based ideas from Cognitive Behavioural Therapy, and group work support. We also cover issues such as friendships, decision making and mindfulness, to name but a few.
The Inclusion Centre is open to all students and referrals for support can be made by teachers, parents or the students themselves.
For more information please contact our Alternative Curriculum Manager: slovelock@bulmershe.wokingham.sch.uk
Ofsted noted that our Inclusion Centre is "effective in offering support and positive interactions within a supportive environment". Because of the support structure in school we have been able to intervene early and reduce exclusions and improve attendance.
Behaviour
The Bulmershe School Behaviour Policy is based upon our four values, which will ensure that every student is able to be successful, in school and out, and in the short and long term. Our core values underpin everything that we do, and everything that we aim to achieve, to ensure that our high expectations are met to allow every student to achieve their potential.
Ofsted notes that in Bulmershe "the behaviour of pupils is good. There is a calm and purposeful atmosphere around the school. Pupils are courteous and helpful, and they welcome visitors and new pupils to their school. They are smart and wear their uniform with pride. There is very little litter or graffiti around the school."
Our Students are all made of our behaviour system, a copy of which is available in every classroom in school: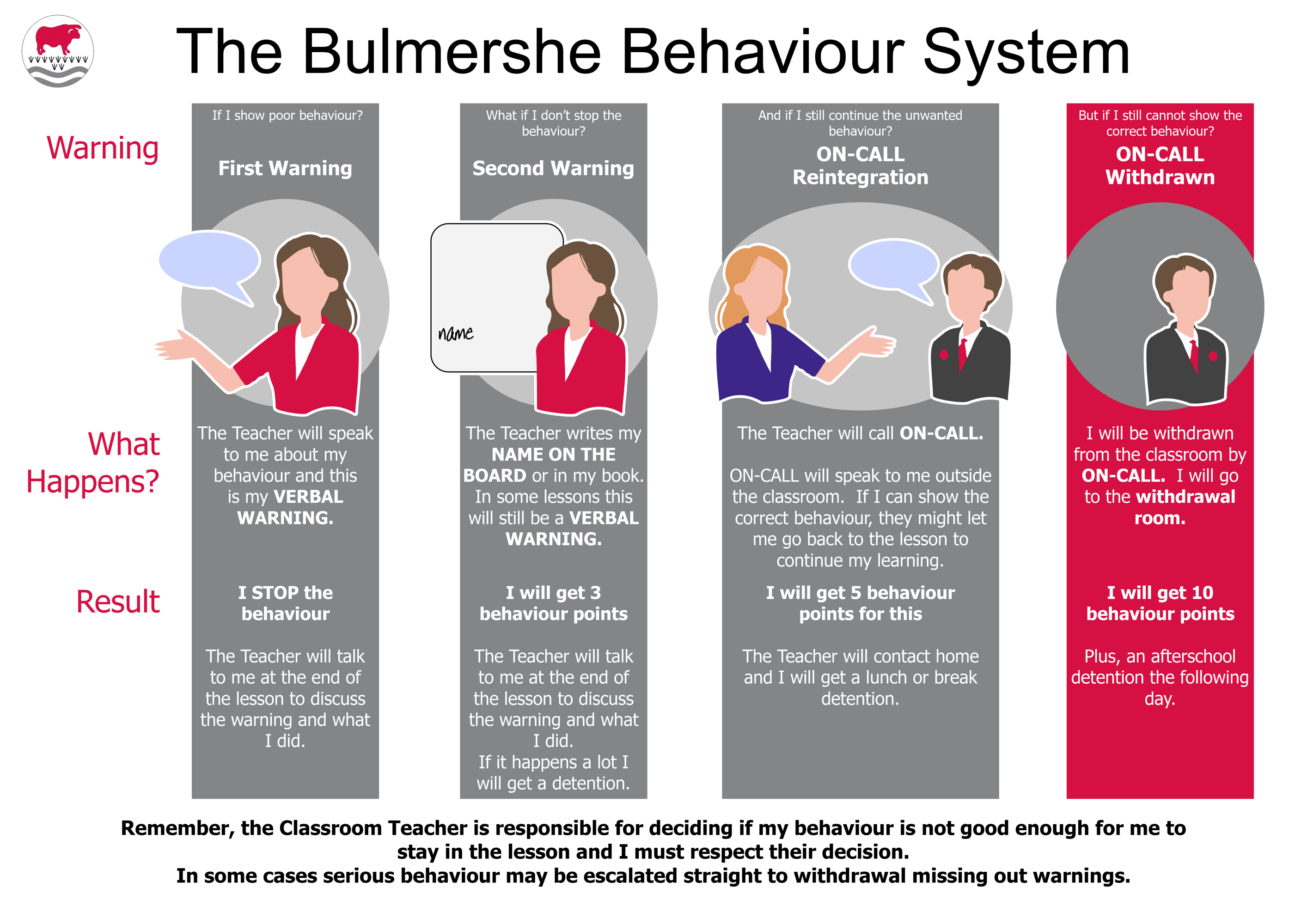 For more information, please refer to our School Behaviour Policy