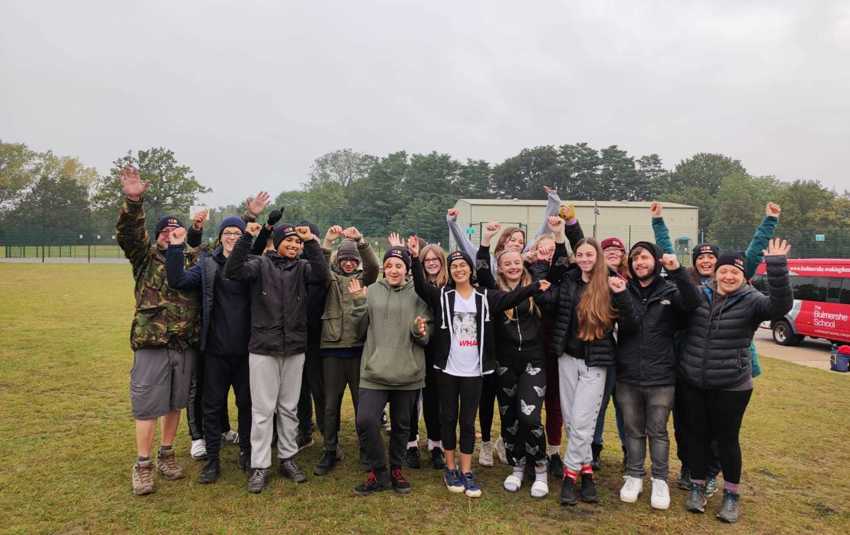 8 Oct 2021
The focus for our year 9 curriculum is based on solving contemporary issues in the local and global community. Students have been inspired by the work of Launchpad Reading to raise awareness and funds for the local homeless community. During lessons they have created sustainable crisp packet groundsheets for the homeless to provide a thermal solution for people sleeping outdoors and have reflected on the challenges homeless people face.
16 students volunteered to take part in the Bulmershe Big Sleep Out and braved the elements, sleeping on the school grounds with only cardboard boxes for shelter. Evening activities included creating their cardboard city, cooking a smokey chickpea and potato stew, making a hot drink using a kelly kettle and taking part in meaningful reflection time instigated by the live broadcast from Launchpad Reading.We would like to thank Vijay at Asda Lower Earley who helped source our cardboard boxes and Mark at Carpet Right Reading for the plastic backing we used on the crisp packet groundsheets.
Students and staff, Alex, Tiana, Shikana, Lola, Alannah, Sophie, Kamal, Aditya, Kassie, Amalia, Ruby-Mae, Jake, Connor, Eve, Abigail, Kacper, Mrs Trenwith, Mr Hulley, Miss Hurst, Mr Staton, Mr Hood, and Miss Bishop. And those staff members that attended the evening events Mrs Wright, Mr Chandler and Mr McArdle.
Well done for your participation and fundraising efforts to raise awareness and funds for homeless people in our local community.
Thank you to everyone who donated and your amazing supportive comments which really helped us to get through the night.
Together we raised an incredible £1208 for launchpad Reading!