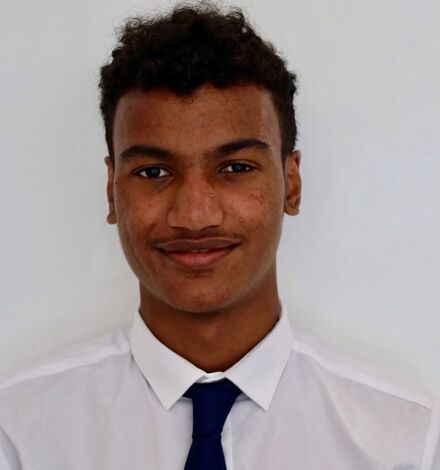 "I would like to lead the way for progress, building a better Bulmershe together, one student at a time!"
Head Student
Why did you choose to come to The Bulmershe School?
For me, Bulmershe stood apart from the other schools I was considering due to its supportive atmosphere and how efficiently the school operated. While the facilities at this school are exceptional, I would say the school's image as a welcoming and inclusive but also effective place of learning was the deciding factor when it came to choosing Bulmershe. I have always felt comfortable in this diverse community, and have been supported not just in every subject, but also in every challenge I have faced throughout the last 6 years. Here, I have not only learnt more as a student, but have also grown further as an individual.
How has The Bulmershe School inspired you to strive for you aspirations and dreams?
I think it would be fair to say I would be a different person with a different mindset were I to have attended another school. Whether it is university applications, career prospects, or taking on a new hobby, Bulmershe has undoubtedly aided in the self-belief I now possess and the confidence to approach every new challenge that faces me. Through the tear-jerking stress of exams, Bulmershe helped me develop my ability to withstand pressure and face every hardship with the mindset of perseverance and the attitude of success. When engaging in conversations with my teachers beyond the subject curriculum, I discovered my passion for history and everything old. During school plays or serving as a tour guide in open mornings, the extent of my confidence in public speaking only grew. While my ultimate aspiration in life is so far undecided, being a student at Bulmershe has given me the confidence and self-belief to strive towards being the best I can be.
How do you feel the co-curricular (extra-curricular clubs, trips, opportunities) experience at The Bulmershe School has benefited you?
The co-curricular opportunities at Bulmershe are incredible, and they have improved my teamwork skills, social aptitude and independent thinking. From afterschool football matches to mock trials at Reading Crown Court in year 8, I have learnt so much as a result!
What would you say is your favourite moment so far in your time at The Bulmershe School?
Definitely becoming a head student- without a shadow of a doubt. Becoming a politician for a few weeks and campaigning towards staff and students alike was like a dream come true. I compiled a collection of campaign photos, printed out general-election-esque flyers and even came up with my own slogan- "Better Bulmershe, Better Britain." Looking back, I struggle to see a better time I've had at this school.
What is your favourite subject and why?
History is the backbone of countries, societies, cultures and beliefs, and for that reason it is my favourite subject. I also study English Literature and Drama, but history is something that I am extremely passionate about because of the lessons we can learn from it, the conclusions we can draw through it, and also because nothing is cooler than fearless Vikings, Roman warriors, swashbuckling sailors or the French Emperor Napoleon behind the barrel of a cannon shouting "Vive la France!"
What advice would you give to a student about to join The Bulmershe School?
Honestly, I would urge any year 7 coming to Bulmershe to enjoy themselves as much as they can. Exams, big decisions and important steps in your academic career will come later on, and being at Bulmershe means you are in the best position to be guided and supported every step of the way. There is no point in stressing about any of it in your first year. I would also say that you should take full advantage of extracurricular opportunities, including school plays, sports teams, after school clubs and events. At the end of the day, this is your time to explore the brand-new world of secondary school, to make friends, and to begin a new chapter of your journey in the best way you can. Good luck!