Welcome Year 6
A Truly Warm Welcome to The Bulmershe School
We are delighted to hear that you and your family will be joining us at The Bulmershe School in September.
As a school, we pride ourselves on educating the whole child and working closely with our local community. We are very much looking forward to working with you and your family to ensure you achieve your potential throughout your time at the school.
I am delighted to welcome you to The Bulmershe School from Mrs Woodfin, Headteacher.
To hear from Miss Harris, Lead Practitioner of Transition; Miss Churchill, Transition Co-ordinator; and Miss Bishop, Transition Team, please watch our welcome video.
Mrs Edwards, Head of Year would like to welcome her new year group. She is very much looking forward to meeting you all!
The Bulmershe School welcomes Year 6 students to have a tour of our fantastic school and view our amazing facilities, that will be available to you in September.
The Bulmershe School welcomes you to a tour of The Ivory centre and the Oasis centre.
The exciting journey starts here!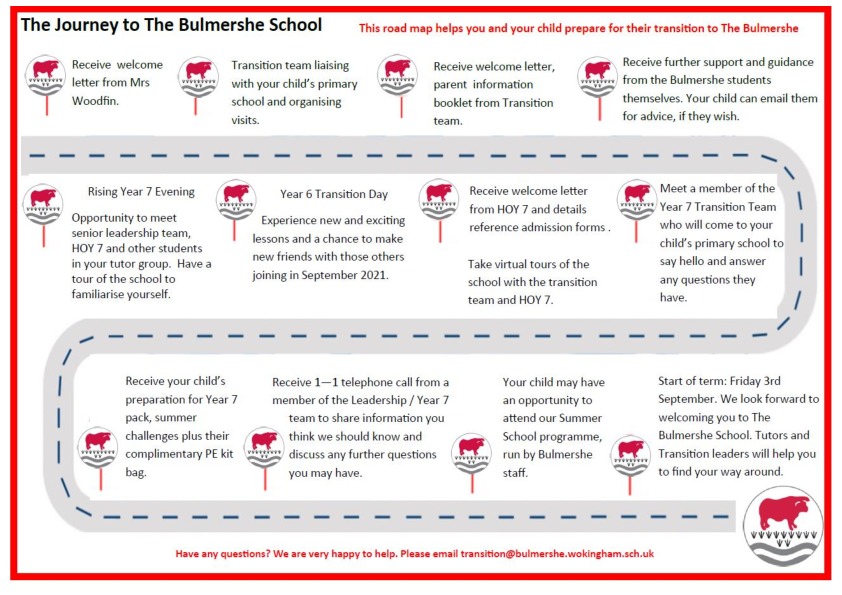 Summer School - Monday 26th July - Friday 30th July
Key Dates
Date

Transition Events

6th July

or

8th July

6pm - 7pm

Virtual Rising Year 7 Evening

The transition team will be on hand to answer any questions; parents and carers and students will have the opportunity to meet Mrs Woodfin, Head of Year 7 and members of the tutor team.

** Please note that you will only be invited to one of these evenings once tutor groups have been decided *

12th July - 20th July

Telephone Call

Receive 1 -1 telephone call from a member of the leadership / Year 7 team to share information you think we should know and discuss any further questions you may have.

26th, 27th, 28th, 29th, 30th July

Summer Camp

9.30am - 2.30pm

This is run by Bulmershe members of staff for rising year 7 students. This offers further opportunities to support them in joining The Bulmershe School.

9th, 10th, 11th, 12th and 13th August

On site School Shop is open

10am - 12 noon

3rd September

First Day of School (Year 7 and 12 only)

Welcome year 7
Finer Details of First Day of School and Dates of Some Important Events Coming Up This School Year
Be Awesome, Go Big is a package to help your son / daughter transition into Year 7. It can be used as a resource at home. It is designed to be motivational, helpful and reassuring and to help young people feel valued, loved, encouraged and equipped for the journey ahead.
The resources are based on bestselling children's books You Are Awesome by Matthew Syed and Go Big: The secondary school survival guide by Matthew Burton. Each session will take pupils through some big ideas to help them on their way to secondary school.
Your son / daughter can work through each interactive lesson, recording their answers in the accompanying workbook.

Session 1 Being AwesomeSession 2 Unlocking your mindSession 3 Dare to take risksSession 4 Making the changeSession 5 Lost but not lost
Session 6 Bounce back abilitySession 7 What is normal anyway​Session 8 Friendships and falloutsSession 9 Living well
(Having trouble viewing the embedded videos? Find all the links here)
Be Awesome Go Big Workbook (printable)
Be Awesome Go Big Workbook (editable)
Get Ready to Go Big
Encourage your son / daughter to try and complete as many of these tasks while they're at home.
Download the Getting Ready to Go Big Challenge sheet
Parent / Carer Leaflets
Helping your child get into good habits
Transition into secondary school
'Supporting children through secondary transition' is a useful guide for parents / carers. It gives great advice about how you can support your child through their transition to secondary school.
Supporting Children Through Secondary Transition
'Moving Up' resource provides some excellent activities to help prepare students for the move to secondary school.
Moving Up - Activities To Do With Your Family Over the Transition To Secondary School
We are so excited to meet you!