Scarlett
Back
Head Student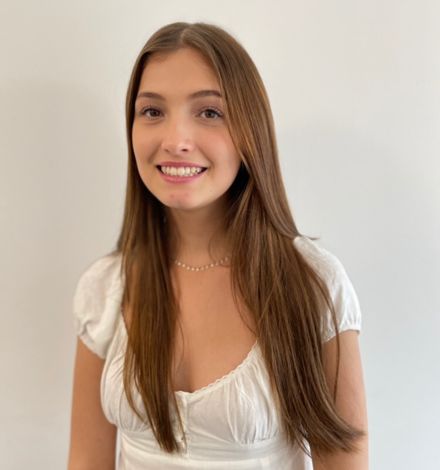 "Teachers never give you unrealistic targets, always encourage you to achieve your best and aspire you to achieve your aspirations. I have am truly grateful to be part of such a caring and thriving community."
Head Student
Why did you choose to come to The Bulmershe School?
I was first drawn to Bulmershe because I had an older sibling here and he reassured me that this school was somewhere where my teachers would support me and encourage me to push myself. After visiting the school on an open evening, I personally met teachers and instantly felt as though they would help me through my whole school experience and that was when I knew I wanted to come here. The faculties we have here also interested me as the drama and art departments are so well equipped for creativity and the new building has our brilliant auditorium which is perfect for shows and presentations.
How has The Bulmershe School inspired you to strive for your aspirations and dreams?
As an A-Level Drama student I love the subject in itself but it has also allowed my confidence to grow and with the belief that my teachers have in me I now know that I can achieve whatever I put my mind to. I also struggled with maths in my earlier years at school but after talking to my teachers about those struggles and receiving valuable help, I was put in the position where I could take it at A-Level which was something I never thought I could do.
How do you feel the co-curricular (extra-curricular clubs, trips, opportunities) experience at The Bulmershe School has benefited you?
I remember going to see Les Miserables in year 7 with the school in London and it instantly became my favourite musical and so when I knew we were doing the show at school I was thrilled and after doing the show the experience will always stay with me. Again, it grew my confidence and self-belief but it also allowed me to build friendships across all years and I cherish all the exciting memories from doing it. Helping with events for local primary schools has also given me important opportunities to help younger children with the transition to secondary school but also be a proud representative of the school.
What would you say is your favourite moment so far in your time at The Bulmershe School?
Going on the Ski Trip in 2018 was the most amazing experience as I had never been before and didn't know what to expect. We spent a week in an Italian ski resort, and we learnt so much about how to ski as well as made our friendships with each other so much stronger. If you get the opportunity to go I would recommend it without a doubt. Doing school shows and going to the theatre in London is always a great time too as we see such a variety of performances. However my favourite moments aren't always big trips, even just having a really good lesson or having fun with my friends at lunch are the sorts of memories that stay with me.
What is your favourite subject and why?
My favourite subject is probably English Literature because I love reading and find studying texts from all different time periods fascinating. English also lends itself brilliantly to Drama which is my other favourite because we study interesting plays and then get to adapt and perform them. However, I also do Maths and Biology which both provide a valuable contrast to my more creative subjects and allows me to explore more scientific thinking which I really enjoy.
What advice would you give to a student about to join The Bulmershe School?
Throw yourself into extra-curricular activities early on, I did a school show in year 7 and made friends who I then stayed with me throughout the school. Also never be afraid to ask for help because your teacher only wants the best for you and if you need it, they'll be there for you.