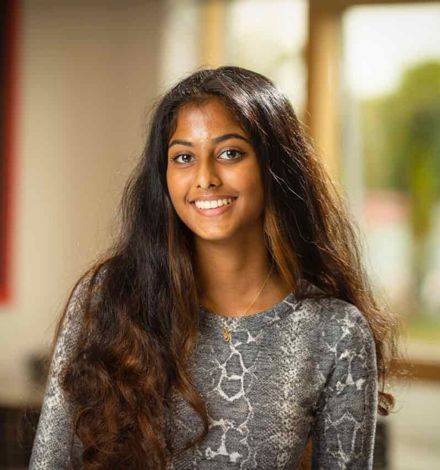 "Teachers have a real passion for their subjects and their students' success, as we are all encouraged to aim high."
Head Girl
Why did you choose to come to the Bulmershe school?
What stood out to me the most at Bulmershe was the number of opportunities and facilities that were available to me. From the first open evening I attended, I could tell there was a real sense of community, not only between the students but also the staff who provide a significant amount of support.
How has the Bulmershe school inspired you to strive for your aspirations and dreams?
The extensive curriculum at Bulmershe opens so many opportunities that cater to everyone. It is also evident that teachers have a real passion for their subjects and their students' success, as we are all encouraged to aim high.
How do you feel the co-curricular experience at The Bulmershe school has benefitted you?
The number of clubs, trips, and activities available really helped me to widen my interests and hobbies. I remember how Year 7 camp was a great way to learn new skills and make new friends. From being a member of the Bulmershe Ensemble, I was able to meet students from different year groups and I have had many opportunities to perform on stage at school and public events, which has definitely helped me become the confident person I am today.
What would you say is your favourite moment so far in your time at The Bulmershe school?
There are so many great moments that I have had at this school! My favourite one would have to be Year 11 Prom as it was such an amazing experience to share with my friends on our last day of secondary education.
What is your favourite subject and why?
Biology, as I find the study of living organisms and processes really interesting. My teacher, Mrs Nath, also has a big influence on my interest in the subject as the lessons are always fun and interactive.
What advice would you give to a student about to join the Bulmershe school?
Be yourself and have an open mindset to embrace every opportunity and get involved in something that is passionate to you. Coming into a bigger school with a wider range of subjects can be quite daunting so don't be afraid to talk to any of the older students or teachers, as we are all happy to help and give advice.