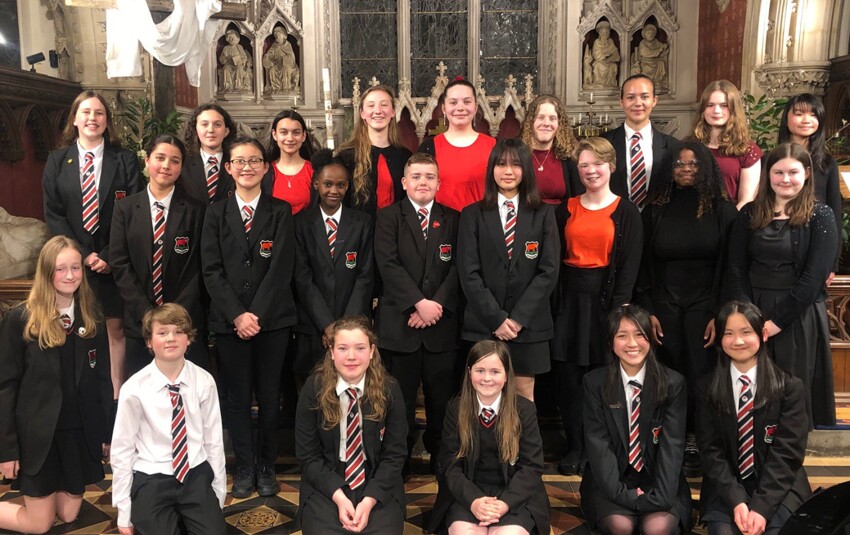 30 Apr 2022
On Saturday 30th April The Bulmershe Singers (junior choir) and Bulmershe Ensemble (senior choir) supported the Ascot Brass Band in an evening of musical entertainment to raise money for St Andrew's Church in Sonning. For many of our choir members, this was their first performance to a live audience and for two of our Year 11 students (Emilie Bishop and Lilla Price) it was their first experience conducting after having been co-directors of the Bulmershe Singers since January. We are incredibly proud of what both choirs have achieved after many years of being unable to perform live together and they demonstrated excellent resilience when slight changes had to be made to our performances beforehand. The feedback from event organisers and audience members have been overwhelmingly positive. Very well done everybody!
"It was wonderful to see young people really enjoying singing as was evident from members of the choirs. The feedback from our audience was that they were all very impressed with the singing and the arrangements by the singers themselves." – Keith Nichols, Treasurer, Friends of St. Andrew's Church
Want to join one of our choirs?
The Bulmershe Singers (year 7 and 8) meet on Wednesdays after school in the Music Department, 3-4pm.
The Bulmershe Ensemble (year 9 and above) meet on Mondays after school in the Music Department, 3-4pm.
No audition necessary! All are welcome!